A beautiful glass enclosure should be the crown jewel of a new or remodeled bathroom – a gorgeous combination of the perfect shower hardware and glass. Replacing a curtain or old patterned shower door with a clear frameless structure improves the whole space. The shower tile becomes visible throughout the room; the illusion of more space is created within the bathroom and shower; and the aesthetic tone is elevated. However, there are some costly and annoying pitfalls of which many glass shower customers and DIYers are unaware. Watching out for these will help ensure satisfaction with the finished product. Let's take a look at three examples.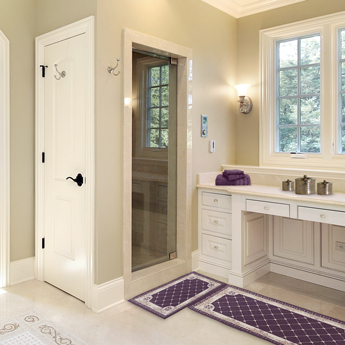 #1 – Making a Nook that Can't Be Cleaned
Besides the selection of glass and shower hardware, a customer also chooses shower enclosure dimensions and its location within the bathroom. Installing a glass shower close to the vanity or another fixture can make sense in terms of space efficiency or décor. However, if it gets TOO close, the result is a nook large enough to get dirty and yucky but too small to reach a hand in to clean. If there needs to be a gap between the glass and another installation, this gap should be wide enough for convenient cleaning. A similar problem can arise when a glass shower enclosure houses not only the shower area but a free standing tub as well. If the tub is too close to the glass walls, it becomes difficult to clean around it. This may not be problem for homeowners who hire a professional cleaning service, but otherwise it should be avoided. It will be far too easy to skip this area on cleaning day, and the constant supply of moisture can lead to mold or mildew growth.
---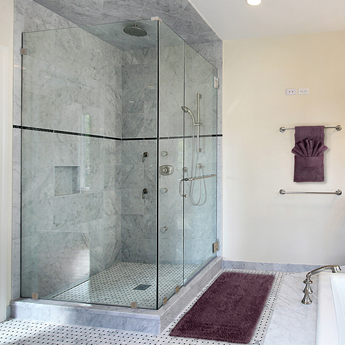 #2 – Dealing with a Curb that Causes Leaks
Just like spouses discussing shower hardware before ordering, communication among a homeowner and the various tradespersons working on a project is a key component of shower design success. If the shower enclosure is going to have a curb, homeowners should keep the following points in mind while working with their contractors: A shower curb must never slope toward the bathroom floor as this will lead to puddles. Likewise, the top of the curb should not be perfectly level, which will also lead to puddles, but maybe not quite as many. The shower curb should have 1/8" to 1/4" slope toward the floor of the shower so that water runs back into the enclosure instead of into the bathroom.
---
#3 – Trying to Force a Swinging Door in the Wrong Layout
Stylish handles and hinges, pristine clear glass…no wonder a swinging frameless door is the defining feature of many dream showers. If there's plenty of open floor space around the shower entrance, it's a convenient and gorgeous option. However, in a small bathroom or one where fixtures are close to one another, a swinging door may not be the most savvy pick. Before ordering one, a client should always consider how things will be when the door swings open. Will it hit the toilet or another installation? Would the open door block the access to a bathroom appliance? When a swinging door is just not practical, a homeowner can consider a shower screen, rolling barn style door system, or set of semi-frameless bypass doors.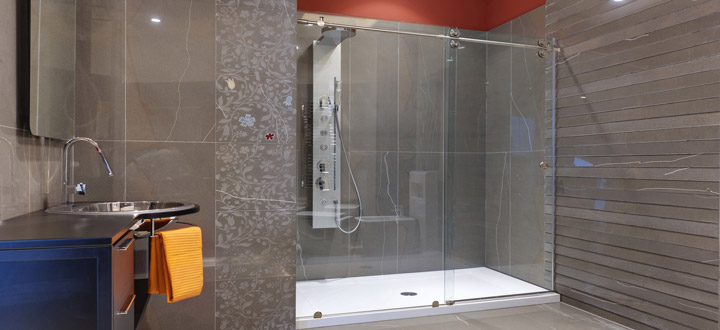 Avoiding common pitfalls is a key aspect of glass shower design, but so is picking the perfect hardware. Make this easy for your customers by offering beautiful quality hardware from Glass Simple – (571)707-7760!
Article Originally Seen: https://glasssimple.com/blog/glass-shower-mistakes-your-customers-should-know-about-and-avoid/